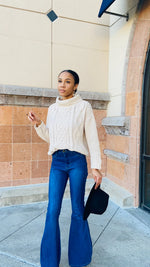 We are all ready for that warm smell of apple pie coming from the kitchen, spending time with family and friends, and eating all the delicious food! Now the real question is what do I wear? You don't want to dress too dressy but not too casual right? Below, we added 4 tips on what to wear on Thanksgiving. 
1. Think about the weather
In some states, around this time of the year, the weather is starts to get chilly. In other states, it may still be a little warm. You definitely want to stick with fall colors either way but dress according to the weather too!
For cooler weather, we recommend a sweater, sweater dress, plaid shacket. For warmer weather, we recommend a comfy loose dress, jumpsuit, or plaid shacket. 
2. Choose Fun Fall Colors/Patterns
When choosing fall colors, you don't necessarily always to have think of neutral colors such as black. Have fun with colors such as colorblocks, combining neutral colors or choosing a camel or red. Have fun with patterns such as leopard and snake print. 
3. Add Layers
To keep yourself nice and warm especially for the weather, wear a trench coat, lightweight cardigan, or leather jacket. Adding layers can complete a look and make you look fabuluxe!
4. Accessorize!
There is absolutely nothing wrong with accessorizing for a thanksgiving event! Go all out and have fun! Here are few items we suggest for you to rock: