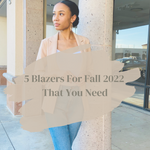 There is something about a blazer that gives you that sexy, confident, and sophisticated look whether you're heading out to the office or going out on the weekends. Below, I am giving you 5 best blazers that will look great on you to wear for Fall 2022. 
1. Buttoned Cuff, Khaki Casual Blazer Jacket
Our casual khaki blazer for women is a beautiful structure piece that can be a great start transitioning into fall from the summer heat! This blazer is a statement piece and can be worn in the office, for brunch, or just for a fun casual night with family and friends. We recommend wearing a white tank or a lace white tank so that the color of the blazer will stand out. 
2. Grey Jacquard Millennium Plaid Blazer
One thing about a plaid blazer, it will always be considered a staple and a statement piece in our book. This blazer can be considered a work blazer considering its powerful look. We recommend pairing it with light colors and colors that are the plaid design itself.
3. Oversized Camel Blazer 
A beautiful oversized, no button camel blazer is a game changer for the fall. It is literally the perfect color coming into fall. This blazer is meant to be worn open considering no buttons attached. It is a perfect "throw on" for the office and for the weekend while you're still look fashionable.
4. Buttoned Cuff, Black Casual Blazer Jacket

You can never go wrong with a black casual blazer. It's simple and easy to dress. The beauty of this blazer is that it is versatile and can be worn for work or the weekend! Dress this blazer in fun colors or go neutral. Either way, you'll still look fly!
5. Classic Oversized Black Long Blazer For Women
Last but not least. Not only do you need a regular casual blazer but you also need an oversized black blazer! Again, you can never go wrong with a black blazer because it's so easy to style whether you're rocking it with jeans or slacks. 
In conclusion, these 5 blazers allows you to get ready for some serious fashion business! Check out www.fabuluxeboutique.com for more blazers that will look great on you!