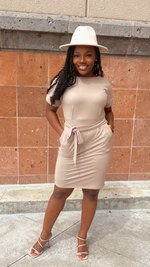 Wondering what to wear for Fall 2022? We have put together a list of items for fall whether it's jeans, dresses, sweaters, blazers, or fedora hats!
1. Bell Bottom Jeans
Who doesn't love a good pair of jeans, especially the jeans that are super stretchy for thick thighs and cozy for the fall. Our popular jeans are a staple for the fall. You can wear these jeans while running errands, heading out for fun, or even just out and about with a few friends. These bell bottom jeans has amazingly stretchy material that will keep you comfortable. 
2. Blazers
Blazers in the fall are a MUST. Grab a few lightweight blazers that can keep you cozy when it's not too hot but not too cold. These blazers are perfect for heading out to brunch, conference, or even work. You can dress casually or business savvy and still look professional. 
3. Sweaters
As it begins to get chilly, you can never go wrong with a cozy sweater, especially a sweater that is super soft. Sweaters are the go to for the office, to lounge in, festivals, events with your kids, and the list goes on. Sweaters are perfect as the chilly weather creeps upon us. 
4. Fedora Hats
Now we all know that fedora hats are a staple for the fall. You can have so much fun with them and style them in so many ways. You can wear fedora hats with jumpsuits, plaid unbutton shirts, bell bottoms, dresses, blazers. As you can see, the list goes on and these fedoras are perfect for a fall look. 
5. Dresses
Dresses can be worn in the spring and summer but never over look the fall before it gets too cold! Wearing warm color dresses that can be paired with boots or booties and a fedora hat are the perfect combination for fall. 
Do you have a particular item that you will wear in the fall? Comment below