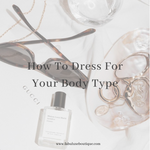 How to Determine Your Body Type and Dress for Your Body Shape
Every woman's body is different. Your body has its own unique shape and that's what creates you. Your shape is what makes you beautiful. Your body is a canvas, and you can dress it up however you like. But...we get it... there are some days, you're not feeling yourself with what you have on. Your outfit doesn't give the "look" that you had in mind. Sometimes, you're going through numerous clothes in your closet just to find the right outfit for the occasion you're attending. Why is that? You have clothes in your closet that may not match your body frame and that's 100% okay. There is nothing wrong with you. We're going to teach you different basic types of body frames and how to style your body. 
After reading, you may realize that you fit into multiple categories on the body types listed below. That's okay too! You'll have an idea of what your frame is and then you'll be able to mix and match pieces to find what's perfect for you!
Hourglass Body Type: 
Hourglass body is known as the curvy body. You may have an hourglass body shape if you have a well defined waist, your bust and hips measurements are roughly even, and you have fuller busts, hips, and thighs. 
Top Hourglass: Your bust is typically the hourglass shape, but your bust is slightly larger than your hips.
Bottom Hourglass: This is the reverse of Top Hourglass. Your hips are slightly larger than your bust.
Pear Shape Body Type: 
Pear Shape body is known as having the triangle shape. Your waist is typically wider than your bust and you consider yourself having fuller hips. Your bust and shoulders tend to be narrower in comparison to your hips while having a fuller rear. 
Apple Shaped Body Type
Apple shape body is known as the inverted triangle which means you tend to have a bigger bust in comparison to your hips and rear. Your shoulders are broader than your hips, but you're not necessarily curvy.
Rectangle/Straight Body Type
Rectangle or straight body is known as an athletic body shape. You may consider yourself this body type if you're not curvy and your shoulders and hip measurements are nearly the same. Your waist is straight up and down rather than having a small or well defined waist. Your body weight is fairly evenly distributed throughout your body. 
Round or Oval 
Your bust is larger than the rest of your body while your hips are narrow and midsection is fuller. Your body frame may look more round or oval. 
How to Find Your Personal Style:
Styling is more than just knowing your body figure. You want to be able to find your personal style and how you can dress the way you desire. We created a workbook that dives deeper into styling yourself. You can download our 3 page sample that we gift to you as a FREEBIE to check it out. 
This book goes into further detail about how to find your personal style and signature style, and explains more about essential must have and decluttering your closet. Moreover, we dive into what colors will suit you, mix and match patterns, and how to accessorize. 
 It's time to boost your confidence and self esteem to be stronger than before and dress effortlessly just like the Queen you are! 
Get your FREE sample: