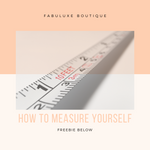 Measuring yourself is sooooooo important. Why? Because we have so many designers and manufacturers who have their own size guideline. Wouldn't it just be great if everyone went by the same guideline?!? I would love for that to happen myself, but unfortunately, that's not how the world of fashion works! You can shop on two different websites and one item may run smaller or larger than what you may consider the norm. This is why it's important for all stores to provide size charts so that you don't order the wrong size especially online! 
I wrote an ebook that is COMPLETELY FREE just for you that relates to how to measure your body. If I were you, I would tackle all the sizes and lock them into your phone so that you will have an easier shopping experience and don't have to worry about choosing the wrong size. 
Plus a great benefit for measuring your body is to make it easier for you to figure out your body type, which you can check out our blog here. You'll be learning about different types of body types and what type of clothes will suit you best! 
-xoxo
Lakia, Founder of FabuLuxe Boutique