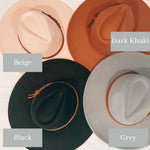 Who wears a fedora hat?
Fedora hats are for men and women. They are meant to complete your outfit and create a classy statement in any season. FabuLuxe provides quality fedora hats at an affordable price.
Our hats are primarily for women, considering that we promote casual outfits with statement essentials. 
5 ways on how to wear a fedora hat?
We have come up with 5 ways on how to wear a fedora. 
Measure your head by using a measuring tape and wrap it around your head. Our hats (link) run between 22.04-22.08 inches. Your fedora should feel snugly not tight. If it is too tight, it may not be a good idea to wear it. 

Choose a color and texture hat to fit your style. Black and camel fedoras are two popular colors that anyone would go after. However, there is nothing wrong with spicing up your outfit with a spring, summer, or fall color. If you choose to rock a bright color fedora, make your fedora the focal point and allow that to become a statement piece to your outfit. 

Add fun bands to your fedora. Sometimes, you just need to complete a statement look by adding something extra. FabuLuxe offers a variety of hats with removable bands that can be used on other types of hats. We also offer plain hats, mainly to focus on the color of the hat, but you're able to add your own bands according to your liking. 

You can wear your fedora hats with a flowing midi dress, jumpsuits, leather jackets, or even a sweater when it gets chilly.

When it's hot, we recommend breathable straw hats or wider brim hats for extra coverage.
What to wear with your fedora hat?
On the way to work:
If you're looking for a solid business casual outfit but want to rock a hat, pair your hat with sleek trousers and a button down or a shirt that tucks in. You'll look fabuluxe. 
A day out with the girls or date night: 
For a more casual upscale look, rock your hat with dark denim jeans a beautiful blouse.


Shop the look. 
We ship our hats within 24-48 hours excluding weekends and holidays. Below are just a few of our popular items we offer. We have more to offer on our website at www.fabuluxeboutique.com. 
The hats above are just a few that we sell. Check the remaining collection by clicking here